Sindisiwe Chikunga Biography, Age, Full Name, Husband, Son
|

Sindisiwe Chikunga (Minister of Transport) Biography, Age, Full Name, Husband, Son
The former deputy minister of Transport, Sindisiwe Chikunga has now been appointed as the Minister of Transport, and so we have written about her; on this page you will find the full biography of Sindisiwe Chikunga, real age, about her husband, and son who passed last year.
Sindisiwe Chikunga Biography
The South African politician, Sindisiwe Chikunga is a popular SA figure. Asides being a politician, she is also businesswoman, midwife, mother and a devout Christian.
Sindi whose full name is Sindisiwe Lydia Chikunga is currently serving as the South African Minister of Transport, an office she assumed since March 2023 as a member of the African National Congress ANC. She has been a dedicated member of the South Africa's National Assembly since 2004. She had been serving as the Deputy Minister of Transport from 5 August 2021, and now the Minister.
Sindisiwe was born an raised in KwaZulu-Natal but later moved to Mpumalanga province in South Africa.
Chikunga's father name is Lucas Gcaba, he was a Lutheran Church minister and a Reverend, this implies the Gcaba family often moves from townships to villages in order to preach and minister the gospel.
What was Sindisiwe Chikunga maiden surname? Before she got married, she bore her father's name which is Gcaba (which is also a South African sur name).
Sindisiwe Chikunga Age
Sindisiwe Chikunga was born on 9th November 1958, this is her real and correct date of birth. So, in 2023, she is 65 years old.
Sindisiwe Chikunga Husband's Name
The full name of the female politician is Sindisiwe Lydia Chikunga-Gcaba, however, people have been wondering how and where she culled the name "Chikunga", as it sounds strange and not South African.
Sindisiwe married her husband whose's name was Chikunga. Her husband however was not of South African descent but Malawian (her husband's father was born and raised in Malawi), so she began to bear her husbands name.
Unfortunately, her husband is late, but Sindisiwe still affirms her love for him by wearing her wedding ring always as a remembrance of her late husband.
Sindisiwe Chikunga Son
In 2022, the currently transport minister (who was then the deputy transport minister) Sindisiwe Chikunga was thrown into mourn as she lost one of her two sons (eldest) to auto accident, which happened close to Ladysmith.
The sad incident was brutal and fatal as it claimed the lives of her son, daughter-in-law and four grandchildren.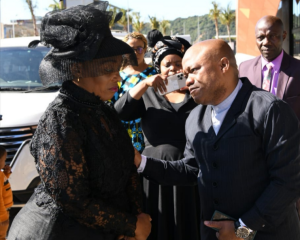 On the image above, you will find Sindisiwe being comforted by the KZN premier Sihle Zikalala during the memorial service of her first son, daughter-in-law and her four grandchildren. The incident happened killed in July 2022.
Sindisiwe Chikunga Education
She currently holds a Masters of Arts (MA) degree From the popular South African University called University of Pretoria and also attended Edenvale Nursing College where she bagged Diploma in Nursing Science and has her specialty in Midwifery. Just a few years ago, began to study Political Science at the (UNISA) University of South Africa.
Stay tuned for more South African news updates and celebrity profiles.