Mama Joy Chauke Biography, Real Name, Age, Boyfriend
|

Mama Joy Chauke Biography, Real Name, Age, Boyfriend
Check out who South Africa's Mama Joy Chauke is, her biography, full name, real name, age, boyfriend or husband, family, son etc.
Who is Mama Joy Chauke?
Mama Joy Chauke Biography – Here we have more information about the South African SAFA superfan who goes by the name, Mama Joy Chauke. The female football fan is a great and popular South African football enthusiast. She is a great supporter of not just SAFA but also, Orlando Pirates, Bafana Bafana. She was the most known fan and was rewarded with the title FIFA 2022 Super Fan.
Her title comes from the fact that she is South Africa's number one football fan, she has a good spirit of sportsman.
Asides football, she also cheers other sports like Rugby. In fact she cheered Springboks to victory in the just concluded 2023 Rugby World Cup which was won by SA's Springboks. She is a great fan of sports in general. Her team spirit has contributed immensely to the high spirit of most local sports teams.
Mama Joy Chauke whose real name is simply Joy Chauke was born in Malamulela in Limpopo, a town in South Africa (Malamulela is mostly referred to as Area of Malamulela of Town of Malamulela which is located in Limpopo, and they are mainly occupied byt tge Tsonga tribe).
Mama Joy Chauke Age
How old is Mama Joy Chauke? She is 50 years old in 2023. Mama Joy was born on 22nd December 1973, from her date of birth she celebrated her birthday every 22n December.
Mama Joy Chauke Boyfriend / Husband
We do not know if she is legally married or not,  but she has a family. Mama Joy lives in a city called Dobsonville in Soweto, South Africa. She has a son with her man by name Chad and also has a grand daughter whose name is Xila.
The SA Super Fan went to France to cheer her team, Springboks during the Rugby World Cup last month, she came back not only with the Webb Ellis Trophy, but also gifts which she received from her new found love in France (a fellow sports enthusiast). On her last Tweet she wrote and we quote; "What about this, my man has got a taste. Thanks Babe for the gifts, what do you think SA, [I] am a lucky woman nee." The Tweet was accompanied by a few picture which featured the Gucci gifts her new love gave her, herself and her new love.
Mama Joy Chauke, FIFA Qatar 2022 Super Fan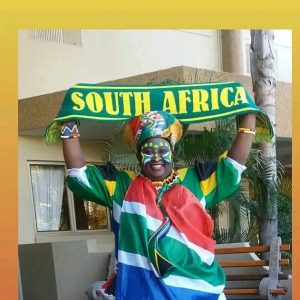 Football has been her favorite game as she was introduced to the popular sports game by her dad at the age of 4. She is a graduate of Shingwedzi High School, there she did not just cheer the soccer team, but was the captain of Netball team.
She loves her country so much, she supports all South African team that competes on the global level. From her young age, she has always supported Orlando Pirates FC, and she follows their games through out the season.
While being a supporter of Orlando, she also supports other clubs like Black and White army and Royal AM FC, and she recently revealed that she will be supporting the later than the first.
In the past FIFA 2022, Mama Joy Chauke was invited by the FIFA and Qatar's committee, where she won the "Best Superfan" last year during the FIFA-Qatar world cup.
She has also met and has been congratulated by the former South African president, Cyril Ramaphosa for her dedication and great spirit of sportsmanship.