Odette Scrooby (Fmr Miss South Africa) Biography, Age, Husband's Name
|

Odette Scrooby (Fmr Miss South Africa) Biography, Age, Husband's Name
Odette Scrooby has her full name as Odette Octavia Scrooby-Joubert. She is a beautiful South African model who even in her 50's is still looking very beautiful and elegant.
The female model was born and raised in a small village of South Africa, and at young age she took interest in modeling, luckily for her, at 18 she won the Miss SA title and has been living on Johannesburg since then.
Odette Scrooby is a model who is also a family oriented person, as she was married to her husband Willie Jourbert, together they have two sons. Odette also has a sister whose name is Olivia.
Some other interesting information about Odette Scrooby you may find below include; Odette Scrooby husband name, how old Odette Scrooby is, her family, real age etc.
 Odette Scrooby (Fmr Miss South Africa) Biography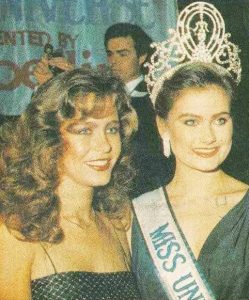 South Africa's Odette Octavia Scrooby is a renowned model who has been in the industry for more than 5 decades. She was married to Willie and they were blessed with two sons before they separated, Willie later met another model whom he has been together with. Willie JOUBERT and Odette owned a nature reserve close to Warmbaths for before they separated.
Odette has lived in Johannesburg for more than 30 years, there she trained and raised her family.
Asides being the Miss South Africa in 1982, she also competed for other pageantries, one of which was Miss Universe 1982 swimsuit competition which held at Lima, Perú in July 1982.
Odette was the 12th runner up during the Miss Universe finalists which was held in Peru. She alongside her sister Olivia have been into pageantry, as her younger sister Olivia was the runner-up in the 1990 Miss South Africa.
Odette Scrooby Age
Odette Octavis Scrooby-Joubert is currently 59 years old as of 2023, and her date of birth was 1964.
The beautiful model, Odette Scrooby was just 18 years old when she became the Miss South African in 1982. However, she stated that she felt shoe could have waited before entering the modelling industry at such a young age, she made this statement in 2018.
Odette Scrooby: Her Husband And His Real Name
The full name of Odette Scrooby's ex-husband is Dankie Willie Joubert, while her her full name  is Odette Octavia Scrooby.
They both have two sons together, Williams who was four-year-old (now 14 years old) when she was robbed at gunpoint in her Bryanston home in J'burg.
Scrooby Joubert and her ex husband also has an older son who is older 32 years old as of 2023. Odette loves dogs as she has about eight dogs, and her favorite dog she named Quentin.
Willie JOUBERT, Odette's ex-husband and herself owned a nature reserve which was close to Warmbaths.
According to an interview, Odette revealed that she moved to Johannesburg after she was crowned Miss SA to have a private life and also ventured into show-jumping and later joined the financial industry in KwaZulu-Natal.