Miche Minnies Biography, Age, Father, Parents, Her Look Alike Ronaldinho
|

Miche Minnies Biography, Age, Father, Parents, Her Look Alike Ronaldinho
We have shared some important information about the female young South African upcoming professional footballer, whose name is Miche Minnies. Keep reading to know Miche's real age, father, parents, biography and her links with the professional footballer, Ronaldinho.
Many have been wondering if the Brazilian professional footballer, Ronaldinho knows  if he has a doppelganger in South Africa, who is also a footballer with the name Miche Minnies. Though Miche Minnies is a female, but the striking resemblance and love for football has made many ask or suggest if she is by chance Ronaldinho's daughter.
Miche Minnies Biography
Miche Minnies, a female South African, who is a talented South African footballer. The female soccer player was born and raised in Heinz Park, South Africa. She has been making headlines for her excellent skills an goals while playing in the field. As she became popular, another interesting thing stood out, she looks just like a copy of Ronaldinho, despite being a female, but the resemblance has been extremely striking.
Miche Minnies Age
Many have been wondering how old is Miche? The female footballer was born in the year November 14th, 2001. So, as of 2023 she is 22 years old.
Miche Minnies Father (Parents)
The father of Miche is David Minnies, also a South African who was born and raised within South Africa. He is also a head coach in one of South Africa's national team.
It has been revealed that Miche's father David was in fact the one who advice and supported her daughter to go into football, and now she is on her way to become the best female South African football player.
For her mother, It is sad to reveal that Miche's mother has passed. It was stated that she had heart complications and kicked the bucket on 31st July 2021, when Miche was still 19 years old. Then, Minnies's family did not have enough funds to bury her, they had to create a fundraiser.
Miche Minnies As A Female Soccer Player
Indeed, Miche has been impressive while in the field. She takes up on Ronaldinho as a striker, and has been very wonderful while playing. In fact, she was the top goal scorer for the past Sasol League 2021.
In 2021 she joined the female team of Sundowns, as their striker she was able to have 23 goals for the season, making her their best striker and highest goal scorer.
Miche is 1,56 m in height and plays in South Africa's U-17 and  FIFA U-17 Women's World Cup.
Miche Minnies, Ronaldinho's Dopelganger
Clearly, Miche Minnies looks just like Ronaldinho. Her popularity started after she was named the highest goal scorer and called out for her impressive skill set in the field. Her pictures while in the field began to fly around on social media, the it clicked.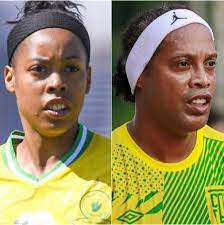 While playing and in action, she got the moves of Ronaldinho the Brazilian soccer legend, she also has the looks of Ronaldinho, colour tone, she has a band on her head just like Dinho, her dentition too. She was just a perfect topic for the social media.
At first, people who did not know about her called her the daughter of Ronaldinho, but a few others who knew her began to share more facts and images with her real father, David.
Despite the argument, many believed that Ronaldinho could had been in South Africa and might had known Miche's mother. But these has been speculations, because there's been no record of Ronaldinho being in South Africa nor having an affair with a South African woman. However, with the image above the resemblance in all things including colour tone is surely quite alarming.
We are wishing her best of lucks and are waiting for when she goes international.
Please share your thoughts via the comment section below.