Flvme Celebrates 4th Year Of His Studio Album, "Candy Man"
|

Flvme's Debut Album, "Candy Man" Is Now 4 Years
One of the hottest hiphop rappers in South Africa right now is Fame whose name pronunciation is Flvme. For close to a decade now he has been dishing out good and excellent music.
It is not easy to come up and stay relevant in South African entertainment industry because South African are blessed with lots of young stars, people who are committed to creating a name in the SA entertainment industry.
So, one should not feel surprised when Flvme decides to celebrate his successful album, "Candy Man".
Lesego Kyle Mnyandu is the real name of the South African hip-hop artiste who is known by his music name Flvme SA.
Flvme is a talented is a musician, singer and music producer who was born and raised in South Africa. He was born on the 10th of September 1999.
The 24 year old entertainer recently shared some information which has been on the internet; he recalled how he joined ambitious entertainment music label, how he had a fall out with A-Reece a very good and talented rapper and finally, he celebrated his studio album, Candy Man which is not 4.
Candy Man is a debut studio project which was dropped in 2019, and Flvme filled the album with hot songs, numbering 19 in total.
It is not wrong to state that the project is one of the best from the entertainer, and it was ranked among the best when it dropped. The singles immediately reached million views just shortly after releasing them.
Since the last album, he has not released another project which trended and was rated more than Candy man.
Flvme took to his social media to announce the album anniversary, he stated and we quote;  "I KNOW I'M LATE … BUT MY DEBUT ALBUM IS 4yrs OLD NOW !!! WENT THROUGH THE MOST CREATING THIS BUT IT ALSO HELPED ME FIND MYSELF," he stated.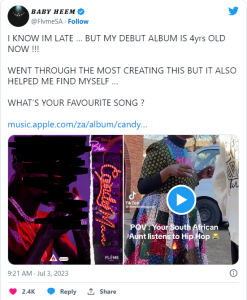 POV : this is the only album I've ever made pic.twitter.com/xQZ17mEUOl

— 𝑩𝑨𝑩𝒀 𝑯𝑬𝑬𝑴 (@FlvmeSA) July 3, 2023
As he celebrates his album's 4th anniversary, Flvme has among his recent announcements revealed that he is cirrently working on his next album which he said will be a hit. We hope that he shares another great music that will serve the test of time.